To hear most Internet marketers and email marketers tell it, you'd think the only things that exist are the 'Net and email. Snail mail? What's that? But here in the real world, people who actually have to build successful companies know that's not the whole story. Not by a long stretch.
Marketing involves so much more than SEO and email marketing or even social media, that I have been heard to make grumpy noises when I hear people talk about them as if they were an end-all. They all have value, and they're an essential part of a marketing strategy in many (not all) cases, but they don't cover all the bases.
Imagine my delight, then, when a relatively new kid on the email marketing block reached me by sending me a great big 6 inch by 11 inch postcard in the mail: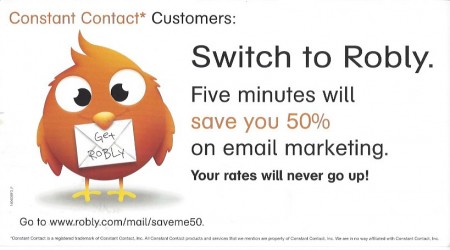 If they'd sent ten emails I'd almost certainly have ignored all of them. As with most of us, the Delete key gets plenty of exercise when I'm going through my inbox, and I'm not at all diligent about investigating emails from senders I've never heard of when the only thing that's visible is a subject. I also don't have much hesitation in chucking junk snail mail, but a large, mostly-white postcard, as inelegant as this one is, with a ridiculously cute orange bird as its focal point? I just couldn't ignore it.
It achieved the four vital things any advertisement must:
It got my attention long enough that I didn't throw it away unlooked-at.
It got my interest (mostly because of the bird), and
It got me sufficiently engaged that I read and got its message.
It prompted me to act.
Notwithstanding the slightly Geico-esque approach (the 50% thing), and the awkward typography (which goes well with the nerdy awkwardness of the bird), I was so intrigued that I typed in the URL and spent quite a while on the company's website to see what was on offer.
That's exactly what you need an ad, a postcard, a flyer or a poster to do, and that's all you want it to do: create sufficient interest to make someone take action. In this case, the delightful visual appeal was an extra. I have instant liking for a company with a sense of humor, and this has "fun" plastered all over it. The self-deprecating mascot adds humor and therefore credibility to the piece.
As it turned out, this new service is very well put together and simple to use. (In the weeks ahead I'll be giving them a trial run and will update this post accordingly, but indications are good so far.)